The second weekend in September is always spent in the castle grounds of Hex in Belgium.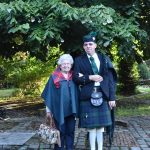 The edible wood products of Groene Takken are part of a Plant and Cottage Garden Festival on the castle grounds. It is a wonderful place full of history with a most amazing cottage garden that is always bursting with colour, full sized fruit and vigorous vegetables. This year we (Loes and I)  had booked to stay as usual at the Loonderhof, a small Bed-and-Breakfast at a nearby village. We arrived there totally dishevelled Friday evening after having battled the winds and the rain during our attempt to put up the party tent on the designated place on the castle terrain. We were really looking forward to a warm shower and an early night. Behind the immense oak door of the Bed-and-Breakfast we heard animated voices with a distinct Belgian accent. Without thinking too much we stormed inside and stopped dead in our tracks. In the rather dark and ominous hallway there stood a man with a powerful presence and  in full Scottish ornate. Everything at that late hour was crisp and immaculate – from the strangely knotted shinning green tie right down to the curly haired old woman  clinging onto his arm. Within two minutes he had us hanging on to his arms as well and we had become good friends for at least a minute until the necessary photo's had been made.
Breakfast at the elongated communal diningroom table the next morning was a generous mixture of warm and cold dishes combined with an abundant supply of anecdotes from our friendly Belgian-in-kilt. His presence at the nearby Scottish Games was part of an adoration of the British Royal Family that was more than a superficial pasttime. He and his mother make several journeys each year to selected locations of royalty throughout the whole of Great Britain. One year they unexpectedly found themselves in their invalid vehicle mid in the rose garden of Balmoral Castle. How they got there was a mystery, how they got out without anyone seeing them trying to break the speed barrier was even more of a puzzle.